Ram Paving Ltd Of Winnipeg's Expert Pavers
Ram Paving of LTD has been paving in Winnipeg, Manitoba since 2003. We've can pave roads, driveways, parking lots, and more. It doesn't matter where you are through Winnipeg or Manitoba - Our team of paving contractors is ready to mobilize to pave or repair your asphalt. What can we pave for you?
We've Paved Roads All Across Winnipeg
What Type Of Paving Service Do You Need?
From Your Pothole To Your Road We Pave It All
Gravel driveways suffer from both dust and mud, creating an ongoing nuisance. Asphalt paving creates a smooth surface, environmentally friendly surface that does not get dusty or muddy as the weather changes.
Tar and chip paving is a cheaper alternative to asphalt paving. It is created by pouring hot liquid asphalt over a gravel base. The next step is to coating the asphalt with loose stones, which are then rolled into the asphalt to form a solid finished surface.
Seal Coating & Crack Filling
Over time, your asphalt can become cracked due to it becoming oxidized. Seal coating fills this crack with a rubberized substance, thus preventing liquids from seeping into and further damaging your asphalt.
Winnipeg's Go-To Paving Company
We are proud to be a family-owned and operated business. While we do have employees, we strive to make them feel like a part of our family. By taking care of our family, we have been able to provide superior service to Winnipeg!! Our service is the type of service that can only come from a well-run family business.
If you need a professional paving company, please give our family a call and we'll take care of your paving project. From driveways to roads, we pave it all.
---
Western Canada's Professional Asphalt Paving Contractor
Request A Quote On Your Paving Project
Winnipeg's Trusted Paving Company
Over the years we have paved countless kilometers of pavement across Winnipeg and Western Canada.
Paved Over
2400+

Meters Of Asphalt
We have done paving projects for driveways, acreages, commercial lots, and municipalities across BC, Alberta, and Saskatchewan. Well-paved roads that are properly maintained can last anywhere from 15 - 25 years, though they do require frequent maintenance.
At Ram Paving, we are equipped to handle paving projects of various scale and length. Whether it be in an urban environment or in a rural setting, our team of paving experts are well-versed in delivering top-notch paving solutions. Our specialty lies in providing efficient and high-quality paving services to cities, ensuring a smooth and seamless process from start to finish.
Repaired
20k+

And More Cracks
We don't just pave fresh asphalt, over the years we have fixed thousands of cracks. It's important to keep your asphalt sealed, as cracks will continue to expand becoming potholes.
Potholes pose significant dangers to drivers, cyclists, and pedestrians, including vehicle damage, increased risk of accidents, and decreased road safety. It's essential for municipalities to regularly inspect and repair roadways to minimize these hazards.
From Start To Finish Our Process Is Simple
Before we can begin working, we need to provide you with a quote. Give us a call or send an email, and we will arrange a time to visit your residential or commercial property. If crack repair jobs, photos of the cracks may suffice.
Once you accept our quote, we will arrange a time to begin working on your property. We will try to accommodate a time that works best for you, as paving projects can make it difficult to access your property.
Once we have finished paving or repairing your asphalt, we will do a final quality check before cleaning up. This is an important part of the process, as it helps us identify and fix any mistakes. Also, if you have any questions about the warranty, now is when we will review the terms.
Your Professional Paving Company
A Paving Contractor Winnipeg Can Depend On
---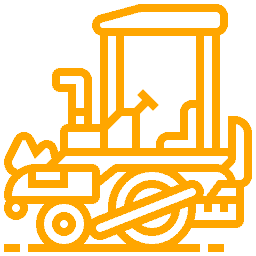 Asphalt Paving Contractor
Asphalt is a mineral aggregate of gravel, sand, rock, and other recyclable materials that have been crushed. Bitumen is then applied as a binder and is used in all forms of asphalt. That's why Ram Paving is very detailed oriented when paving asphalt, as even small errors can cause issues in the longevity of an asphalt road or driveway.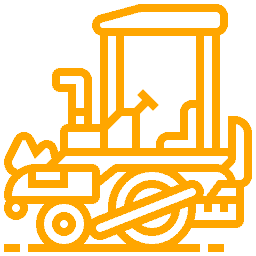 Tar and chip or chip-seal paving is an alternative to traditional asphalt paving. Chipseal paving is made by distributing a thin base of hot tar onto existing payment with a finely graded aggregate embedded into it. This aggregate is distributed over the hot tar and then rolled in using a heavy rubber paver. Cheap-seal paving creates a surface that is both cheaper and can even provide more traction in the winter when compared to traditional asphalt pavement.
---
---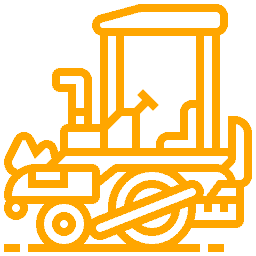 When your asphalt or driveway begins to show signs of wear, you should think about fixing it as soon as possible. This is because even the smallest crack will allow more water to seep into your asphalt, which makes it easier for damage to continue to expand. This is why hiring a driveway repair contractor to fix any cracks or apply a new seal coating is important, acting quickly will literally add years to it's life.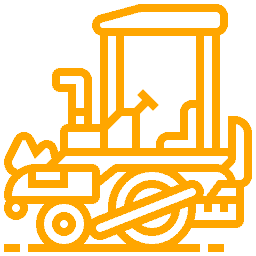 Big or Small We Pave It All
No matter the size of the project, Ram Paving is ready to roll up our sleeves and get to work. Commonly, we pave the driveway for averages and quite often have done work paving lengths of roads for various cities and towns across Alberta and Manitoba
---
Western Canada's Professional Asphalt Paving Contractor
Request A Quote On Your Paving Project
Before we hired Roy and his team, I looked on line to see the reviews and saw that 5 stars were the results of satisfaction from the previous work they had done. After the work was completed for us, I understood why their reviews were so high. They met my expectations and more. I am completely happy with the work they did in our driveway. I highly recommend them.
For the past few years we have worked with Roy and his crew at Ram Paving, and we have always been very impressed with their professionalism and quality of work. Our repairs have always been in very high traffic areas and Roy always develops a plan describing what work will be preformed taking into consideration the least amount of disruption to our location. Very happy with Ram Paving Ltd.
We have been using Ram paving for our commercial parking lot for the past few seasons. Work done is some of the highest quality you will find. I would not hesitate to recommend Ram for any job big or small.
Ram Paving LTD Of Ednonton
Big Or Small We Pave It All

If You Want a Hassle, You Won't Find it Here
Our family has been paving the roads, driveways, and parking lots for three generations. You've probably seen our work before because we have been all over Winnipeg.
We make sure every project we do is done right, or we will come back until it is.

If the job isn't done right, then the job isn't finished. We will come back and fix any mistakes we make. Asphalt last it's longest properly paved, so our focus is to make sure each job is done right when we leave it.
No Pressure Free Estimates
Asphalt pavement is a big investment to make. As such, we strive to put no pressure on you during our free estimate process. We want you to choose us because you feel we are the best company for the job.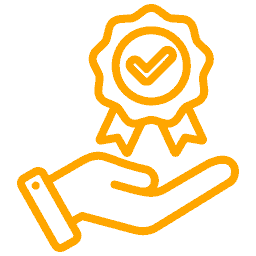 Transparent Quoting & Servicing
Being transparent during our quoting and servicing process empowers our customers to know where their money is going. We know that by doing right by you, you'll refer your friends and family when they need us.
Hours

M - F: 8:00 am - 5 pm

Phone
Address

23-845 Dakota St #320 Winnipeg, MB R2M 5M3

Hours

M - F: 8:00 am - 5 pm

Phone